Parks Victoria ranger Yohanna shares tips on best hiking practices to reap the proven physical, social and mental health benefits that come with spending time in nature.
Tip 1. Choose the right hike
With walks from a few minutes up to 13 days in the parks of Victoria, there is something for everyone.
Match your walks and activities to your abilities, fitness, and endurance.
Choosing the right hike means thinking about your fitness, how much time you have, what kinds of things you want to see, and then choosing something that is right for you.
To make this easier, there is a scoring system used to let you know how easy or difficult a trail is – the Australian Walking Track Grading System (AWTGS). The trails are classified into five levels, with level 1 being the easiest and level 5 being the most difficult.
The scores take into account the experience required, the steps, the slope, the quality of the path and the signage. The final mark for a walk is based on the most difficult of these five criteria, rather than an average.
Look for note symbols online, on visitor guides, and signs to tell you what to expect on the hike you're interested in, and choose the one that's right for you.
Tip 2. Plan ahead
Summer is a great time to go hiking, but it's important to do it safely so that everyone has fun. Hiking in the summer comes with additional risks, so be sure to:
Check the weather forecast. Remember to check the forecast again on the day you plan to hike in case your plans change
Let someone know where you are going and when you plan to return. Fill out a travel intention form and leave a copy with a reliable friend or family member
Be aware of bushfires – check fire danger ratings, fire restrictions, and total number of fire interdictions for your route and destination. Make sure you have an emergency plan in place
Download the VicEmergency app and set up watch zones for the areas you plan to visit
Check the latest park conditions and closures before you leave the house.
Tip 3. Beat the heat
Consider the best time of day for the hike. Leave early or late in the day and avoid the hottest hours. Make sure your summer hike doesn't end in disaster by:
Have a plan in place if things change along the way, even if it means not reaching your destination
Carry enough water! For a day hike, that means 3-4 liters of water per person. Some hikes may have water sources, but it's best to pack more than you need, just in case
Watch for snakes in hot, sunny weather. Wear protective shoes, and even gaiters (shin covers and ankles made of material) if you can
Take plenty of breaks and take shelter in the shade when you can
Know the symptoms of heat stroke and heat exhaustion.
Tip 4: Dress and Pack Properly
Wearing the right clothes, a hat and shoes for protection from the sun is essential when hiking, especially in summer. Also, be sure to pack:
Sunscreen (don't forget to reapply if you are away for several hours!)
Additional food like muesli bars, nuts, apples
A first aid kit and medical supplies for allergies and stings
A change of clothes for all weather conditions
A fully charged smartphone. Use GPS tracking services and snap a photo of a map before you go or download an offline park map from Avenza.
Tip 5. Take care of our natural environment
Always stay on the marked trails during your hikes. Walking off the trail damages sensitive vegetation, can disrupt Indigenous cultural heritage artifacts, compact soil, and spread plant diseases. More important things to do to leave no traces while hiking:
Obey all safety signs
Stay behind the barriers, it's also for your safety!
Bring all the trash home
Clean clothes and shoes before entering the park
If you are planning an overnight hike, make sure you are familiar with our campfire safety tips.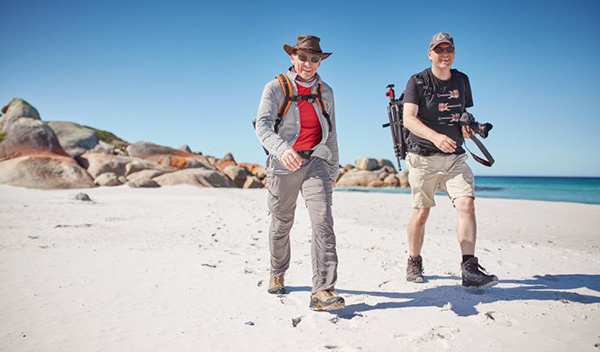 Tip 6. Leave it to the experts
There are more than 400 Licensed tour operators all over Victoria who are ready to show you our beautiful parks and waterways.
With their expert knowledge and experience, licensed tour operators do all the planning for you, provide the equipment, and make sure you're in good hands to get the most out of your backpacking adventure.
Parks Victoria ranger Yohanna concludes with advice to get the most out of your hike, read all safety tips for visitors before you leave.
For some of the hikes you can do in the parks this summer, or to search by individual park, go to parks.vic.gov.au/things-to-do/hiking-and-bushwalking
The Victorian government is investing in new walking trail experiences, improving 4×4 and bike trails and improving accessibility in Victoria Parks and Reserves.
Top images: A group of four hikers walk along Discovery Bay Beach as part of the Great South West Walk; Cathedral Chain State Park; Hiking Wilderness Coast Walk Croajingalong National Park; Licensed tour operators. All images are courtesy of Parks Victoria
Related Articles
April 8, 2021 – Parks Victoria informs time is "running out" to save Alpine National Park
November 2, 2020 – Government of Victoria appoints new members to Parks Victoria Board of Directors
September 21, 2020 – Parks Victoria passes 25 years in protecting the Grampians
February 17, 2020 – Parks Victoria collaborates to protect historic huts from bushfires
March 12, 2019 – YMCA Victoria Partners with Parks Victoria to Offer Training on Inclusive Outdoor Recreation Program
January 8, 2019 – Parks Victoria combats anti-social activity at Wilsons Promontory National Park
November 9, 2018 – Parks Victoria announces $ 1.2 million infrastructure facelift for popular open spaces
September 18, 2018 – New Victoria Parks Act aims to strengthen park management
August 31, 2018 – Parks Victoria to test health-focused rangers
July 24, 2018 – Parks Victoria Welcomes First Visitors to Renovated Point Hicks Lighthouse Preserve
December 12, 2017 – Parks Victoria will employ 53 new Rangers
September 20, 2017 – Former Parks Victoria CEO Launches Canada-Based Consulting Firm
July 5, 2017 – Parks Victoria recognizes the work of an Indigenous ranger during NAIDOC week
February 9, 2017 – Parks Victoria fined for dumping dirty water
January 9, 2017 – Multi-million dollar Parks Victoria credit card bill investigated
December 26, 2016 – Parks Victoria Plan Offers Luxury Accommodation on the Falls Creek Trailhead at Hotham Alpine Crossing
December 20, 2016 – Phillip Island Natural Parks Director Appointed New General Manager of Parks Victoria
April 1, 2016 – Emeritus Environmentalist Appointed to New Parks Victoria Post
---
Ask for a little favor
We hope you enjoy the news we publish. While you are here, can we ask for your support?
The news we publish on www.ausleisure.com.au is independent, credible (we hope) and accessible for free, with no pay walls or annoying pop-up ads.
However, as an independent publisher, can we ask you to support us by subscribing to the print version? Australasian recreation management magazine – if you don't already.
Published bimonthly since 1997, the print Australasian recreation management differs from this website in that it publishes longer, in-depth and analytical articles covering water sports, attractions, entertainment, events, fitness, parks, recreation, sport, tourism and management sites.
Subscriptions cost just $ 90 per year.
Click here register.